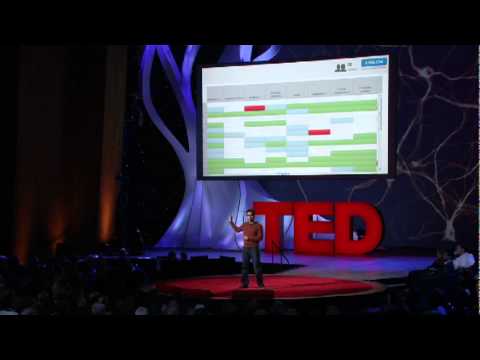 WOW!  Look how far we have come.  Can you imagine where we would have been HAD Isaac Newton been able to post his "lectures" on YouTube?  Why not help our students become 100% bike riders.  Why are we handing them that unicycle before they're ready?  This seems to be the puzzle piece that will allow us as educators to leap out of the trenches of teaching procedure after prodecure (especially in math) and onto the ground of application and higher level thinking, all while running with the technology.
And, OBVIOUSLY this drastically changes the teacher's role.  Some may argue that in a sense, the teacher becomes obsolete.  If a kid can learn the concepts on their own by watching a video, then what do they need the teacher for?
It definitely redefines our role as educators, but I think the idea actually brings more value to our profession as now the teacher becomes the discussion builder, the faciliator of conversations in the classroom.  As Salman Khan said, our classroom truly becomes humanized!  The teacher is no longer just regurgitating information from a book, information that the student could get for themselves, be it from the text or online.  Now it requires the teacher to take things to the next level, to the critical thinking level, to know the material to a level deep enough to start to make the connnections to the application, where  it really matters.  It frees the teacher to explore FOR THEMSELVES the deeper meaning of the math and opens up oppportunity to have conversations in the classroom and share ideas, collaborate on concepts, student to student and teacher to student, while everyone discovers deeper meaning for themselves.
I definitely think Khan Academy is onto something.  I think the thought of making such a radical shift is truly frightening because it is not just doing the same thing in a slightly different way, but it is revamping the entire method of education.  But, with the rapid technological shift that is taking place in today's society, it may be time to wipe the drawing board clean and try something new and different.  It may be time to take the risk and try something radical!
A little side note thought on this topic (Just me pondering a bit more)  
What about assessments?  What do assessments look like in this sort of classroom environment?  Does the tracking system that Khan discusses take care of that as it tracks students' understanding, or lack there of?  Does this take the assessment to a project-based product that is used to display understanding?  And how do we grade these projects?
Somehow assessing understanding always comes back to that one-size-fits-all.  At least in high school, where we have letter grades.  If we make this shift, it would mean developing a detailed rubric that fits the standards in terms of levels of understanding and that becomes the grading system, seemingly more similar to how elementary teachers assess student understanding.  So then does everyone eventually get an A because everything is self paced and they move forward as they gain the understanding?  But, what do you do when you get to the end of the year and there are still those few kids who haven't met all of the standards? If we let them move on then aren't we still creating that swiss cheese effect? 
It is almost as if this totally wipes out the traditional idea of a teacher teaching one course, say Algebra 2, and moves us as educators toward teaching along a wider spectrum, where you're addressing some above and some below the course level all within the same classroom.  I guess that truly is humanizing, isn't it
   Interesting