Over the last couple of years the difference between my own childhood appreciation of music and that of my own children, have been an itch my thinking. For me it was simply

the whacking 3 in 1 stereo system, that everyone knew and accepted to poor less than stellar radio reception capabilities, yet we like the way the dials and indicators were back lit.  Predominately it played records, in pure undefiled analogue sound. Yes records, does that date a person or what. The speakers were placed right next to the stereo with the full effect 'chair'. This chair was strategically placed in front of the speakers so that you could experience the full range of sound from both speakers. Essentially, that was the totality of the experience. Lay down some vinyl on the turn table, sit back in the 'full effects' chair and enjoy straight laced sound.
My kids however have their own groove thing going, none of which has been modeled or taught by their parents. My eldest, for some time now, will download songs that he loves, put them on to his ipod, then head off to his drum room and pound away trying to recreate the rhythm. Both my kids daily forage amongst the quality poor under belly of Groove Shark. Songs that people mention, or ones that have been heard on movies are quickly located and repeatedly played at volume.
So after my plucking in the ukulele world I wondered how the process would work with one of my kids. Unexpectedly my eldest was sick and had to take a day off school. Brilliant I thought what a great opportunity to see how this game of learning via the internet plays out for a totally new instrument. Excitedly, for sure lame to be excited about such a silly thing, before I left for work I printed off a chord chart and sent him links to song lyrics & chords, a sound file, and an instructional video clip that taught the specific song and left for school.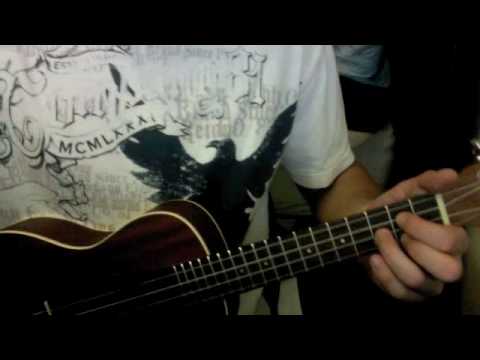 With high and lofty hopes I rolled back that afternoon and seriously expected him to be at least plunking away at some sort of tune. But no, this was a totally belly flop. No plunking, no nothing. Even though the pieces were all laid out for the little fella, that fact that there was no one to guide and help him along and identify the missing pieces proved to be disheartening.
Rhetorically, I asked myself why the project nosed dove so badly. Was it just age? Maybe but he taught himself the drums in the same manner when he was much younger so that did not feel conclusive. I got to thinking that it was the people factor. When he began with the drums a number of people had offered suggestions, websites and inspiration. This built a crescendo of moment that naturally flowed into the process of looking, listening and doing, whereby he taught himself from lessons he found via the net. With the ukulele there was no build up or great desire, simply a little flicker of interest.
In order for students of any age to be self –directed and motivated to the point where they can learn without face to face inspiration, they must first have developed a substantial amount of intrinsic motivation. Let's face it, most people could actually learn anything from the plethora of available resources but instead very few choose to do so. The majority of people make the choice to part with some cold cash, paying someone to collate, explain and motivate them through a collection of learning experiences.