Course 3 has been exceptional because of the ease of teaching and  innovation we have brought into the classrooms after being exposed to the potential of visual literacy. From creating infographic posters to digital stories, communication with the students has been really effective and interesting. Being a PE teacher, it is always difficult to theoretically explain techniques to students because for them PE is different from their usual subjects. Hence, visual literacy automatically happens to be the helping tool.
"Visual Literacy is a gradual process of gaining greater sophistication of perception,conception and visual and linguistic vocabulary", as mentioned in 'The Visual Literacy White Paper'. This is absolutely true. You can judge a child's understanding level by observing if he can grasp the concept using a single image or does he need a written explanation to comprehend what is being taught. The understanding is not only limited to school but it should be connected to daily life too. Let's take a simple example.
Packed food items have different coloured marks for distinguishing between vegetarian and non-vegetarian. They don't explicitly have it written on them. The mark, which is the visual tool for information here, says it all and thus makes it easy for both producer and consumer.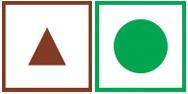 While I teach strategies during Soccer or volleyball, I often use diagrams to show positions,movements etc because they can simply look at it and retain that image in their minds for long.
The Infographic Poster that I made for the 30 Day challenge seemed really attractive to them and they caught notice of it when I stuck it on the notice boards. It was different than the posters I used to make earlier because this time I followed the CRAP rules which made the impact even more stronger. The Presentation Zen video on Assessment Criteria and the Pecha kucha design on 21st Century Teachers was a different experience because I had to convey all my points using only pictures or else only a few words in a 20 sec/slide time limit. I realized how concise and effective it turned out to be.Adding to this, it helps you channelize your thought process and makes you sound relevant.
But the best part was the Digital Storytelling where I picked up a topic like Game Nutrition to teach the kids how important is it to focus on the diet they take to remain fit and perform well. They were easily able to identify with the central idea of the story. I am now going to make sure that once in each unit, I use Digital Stories to teach game strategies or techniques.
In short, for making game plans, team strategies, goals, diet plans,fitness rubrics, teaching new techniques and skills, safety rules etc in PE I shall make use of all these visualization tools to make teaching and learning seem easy and interesting.
I made this collage showing different tools which we can use to depict necessary information in our classrooms.( Because images definitely speak louder than words!!)