Recently there have been some monumental and historic moments that have occurred globally and locally.  Two that I would like to focus on are the world population and the floods in Thailand.  October 31st marked the date recognized by many as the day the world population reached 7 billion.  Many organizations seized on the opportunity to educate about the impacts of 7 billion people on this planet using infographics.  While this milestone was recognized world-wide, here in Thailand we were reeling from a huge flood crisis that has had (and will continue to have) a major impact on one of the world's largest cities.  16 Billion cubic meters of water needed to drain in the Gulf and little Bangkok was in the way.  After lots of misinformation, the media sources finally started communicating their information in simple graphics and some ad-hoc groups helped put together resources as well.  For me, the world population explosion and the flood crisis are linked when considering human impacts on the environment.
How to communicate a major flooding event? It's all in the whales!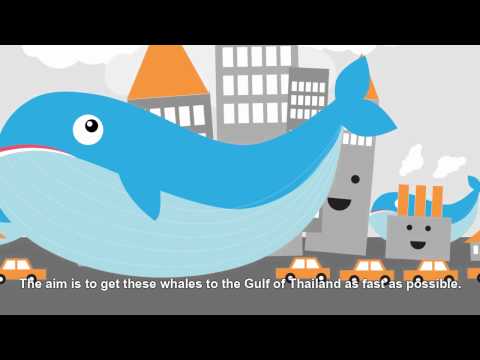 A group of graphic artists from a university got together and made 5 episodes about the floods in Thailand, targeted mainly at the urbanites in Bangkok.  They used whales to represent the water needing to drain to the Gulf and this video became incredibly popular with almost 1 million hits in less than 3 weeks.  The images and graphics that they used were immediately welcomed by the people here in Thailand because they are simple yet engaging.
Ideas for my Biology classes: I am interested in having my students choose an image that captures something meaningful for them about the flood.  These students have all been directly influenced by the flood, some more so than others, and they can create their own image or photo or they can find one on the internet.  They will then blog about why they choose the image, explaining the meaning it has had for them.  Because it is such an important event in their lives and the history of their country, I think this image and subsequent blog will become an important document that they can reflect back on in the future.
The World Population:
7 Billion!  This is an astonishing number for our planet and I found many interesting infographics that helped to understand make 7 billion more tangible.
For my Biology classes: For this topics, I would like to my students create an 'awareness campaign' related to this topic that incorporates some of the techniques used in infographics- such as clean design that transmits a lot of information in a visually appealing way. Students can choose how they personally would like to connect to this topic and work together to create an infographic about the world population.
I include other resources about the world population that I came across:
Finding you're number: where does your birthdate put you in the spectra of world population?
A video that uses some good graphics about the world population
I enjoyed this video about the most typical person and include it here for fun.  The most typical person out of 7 billion
An NPR radio story  about how to visualize 7 billion