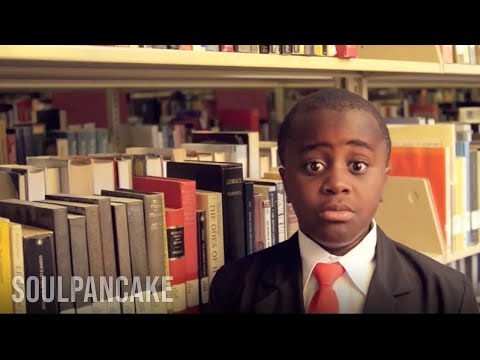 Some wise advice from Kid President:
We can all be awful sometimes, but we can also be AWESOME –

Be More Awesome

!
We can't just study history, we have to MAKE history – and history is made by ordinary people!
Life is school and you gotta SHOW UP!
If you want to change the world, you gotta know about it!
What are YOU teaching the world?
No matter who you are, somebody is learning from you – everybody is a teacher and everyone is a student!
After reading the articles for week #2, I know that I want to "get my learn on" in the area of visual literacy with my students.  There are an array of resources available to help navigate my way around visual literacy in the classroom.  One tool is this website that I plan to use in the next couple of weeks:  Visual Literacy
My first two classes of the day are called Themes in Literature and I have students from grades 9 – 12 ranging in reading ability from 5th grade comprehension to college level.  The routine thus far has included various bellringers for each class that consist of a 5 – 10 minute activity that promotes dicussion about literature, themes or even how we relate to the world around us.  After the bellringer we dive into the reading with discussion and sometimes literature circle roles where they take ownership of the text.
I loved the article called Nurturing curiosity & inspiring the pursuit of discovery that discussed the fact that students are no longer curious!  I see this with my students in the blank stares as they are waiting for me to spoon feed the information needed!   I felt convicted from the following quote from the article.
Rewarding curiosity vs. rewarding certainty
"We are obsessed with giving prizes to students who memorize the most facts and bits of information (and in the shortest amount of time). Why don't we give prizes for the students who demonstrate their unabashed curiosity and demonstrable pursuit of discovery?"
Going with the visual literacy theme, I want to make the students more aware of media and how it affects us.  If I wanted to reward certainty, I could stick to the theme of Literature and present this photo and ask how it relates to them – ask the students to create a caption for the photo and be able to explain why.
OR, I could try to spark some guaranteed discussion with the following pictures.  We could talk about photos that have helped to shape the world and leaves the viewer curious.  What happened in the photo?  When did it take place?  How did this affect others?  How does it affect me?  I am just brainstorming now, but a thought is that I could ask the students all these questions and then have them discover some photos of their own that spark curiosity.
Let's get our LEARN ON!