My students completed digital stories, (mostly) during our field trip in a local rainforest, inorder to demonstrate their understanding of the unit's three essential questions; what are the unique characteristics of the rainforest, how do we impact the rainforest, and how can we help the rainforest?
We used Zapd, which is an app that creates simple websites with minimal effort.  It allows photos with a caption, text boxes and links with a caption.  While students were making their presentations I was shocked (yet again) at their level of inquiry and engagement.  I give full credit for the excess engagement to the the tool, the iPad.  More about that at The Miraculous Journey of 22+1 and in the clip below.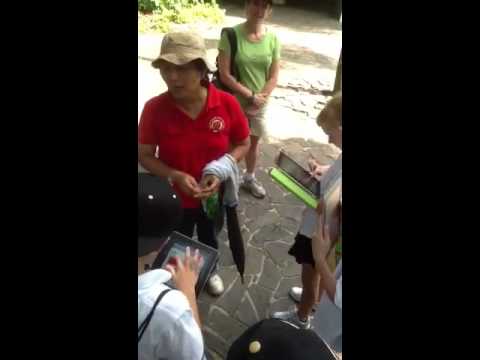 Prior to the field trip, students prepared their Zapd with three sections, one for each essential question.  They also sketched out a story board with details and example that they wanted to include in their presentation.  This was referred to on the trip while making the Zapd.
Nearly all photos were taken during the trip and all text written during the trip.  The revisions and editing were completed in the afternoon back at school.
To the left is one student's work.  I am overall pleased with the demonstration of learning.
Next time I would prepare students with this project in mind from the beginning of the unit.  I would do this to help them to better organize their learning and thinking in accordance with the essential questions.
The visual presentation part of this (Zapd) is spectacular for individuals, class or teacher presentations.  If I were to assign a Zapd project again, I would spend more time preparing the students to take better photos.  Choosing photos from Compfight is more reliable than asking a fourth grader to have an eye for the image in addition to using the app, demonstrating understanding, and protecting the iPad from damage.
My students have explored the idea that images can decorate, inform or illuminate the message or ideas in their work.  I do not think they had this in mind because of all the other aspects that needed attention in the same moment as they were taking photos.  Next time I will focus their attention more on the illuminating quality of visual communication.
Some rights reserved by mknobil