I found the Frontline Digital Nation video fascinating.  I am planning on attending (and now so are Kristin and Dan) the Learning & the Brain Conference in San Francisco in February which will focus on "iGENERATION: HOW THE DIGITAL AGE IS ALTERING STUDENT BRAINS, LEARNING & TEACHING".  Several of the key figures in the Frontline video are presenters at this event: Marc Prensky, Gary Small, Jeremy Bailenson and Clifford Nass.
As for the course, I think it's not as dull as Jeff makes it out to be.  As a TOK teacher, I find the questions about privacy, ownership, copyright, creativity and neurological impact to be fascinating topics, hence the interest in the iGeneration conference.  I was also somewhat chastised by the discussion on copyright for images.  Despite all of my vigilance on textual citation and proper use, I have been amongst the worst offenders for visual copyright protection.  I have considered the Google search to be my own private image archive and even posts on this blog are demonstrations of this.  Beyond my own epiphany and embarrassment, I also appreciate the mini-debate we had over why we are so protective of words but lackadaisical about images.  While Peter employed the fallacy of special pleading when stating that we don't have time to monitor all aspects of a student's process and product, there are still questions I have about the nature of copyright and the connective nature of the web.  If, as Jeff argues, the web is not about content, but rather connections (sorry, if I am misrepresenting you here Jeff), then clearly content has, in this exchange, become subservient to connection: hyperlink trumps hypertext.
This begs the question, then, about how different embedding an image from another site is from embedding a YouTube clip.  I know I have not verified the copyright legitimacy of everything (hell, anything) I've seen off of YouTube although I am quite certain it is not all properly cited.  However, if the web etiquette demanded that level of assurance before linking, things would grind to a halt.  It would end the echo-effect of the blogsphere that can be so pernicious in politics, but most everything else is built upon the loose referencing of the hyperlink.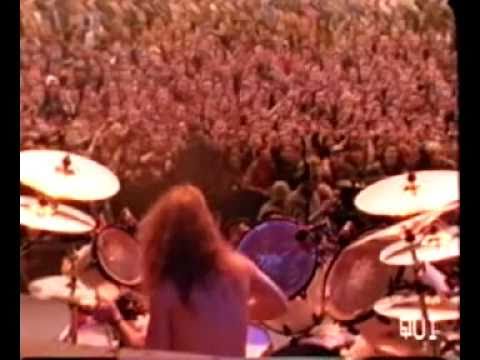 For example, here is a Metallica clip that I have, at least by my limited understanding of netiquette, given all I must give for people to follow it to it's original source.  However, as anyone from the era of Napster will know, I doubt that Hr. Lars Ulrich has given nicolas86uy permission to post it on YouTube.  The interesting question then is what is the appropriate action.
Should I
simply cite nicolas86uy and assume he has a close personal relationship with Lars?
simply cite Metallica directly as we do in text form by saying "Enter Sandman by Metallica as cited by nicolas86uy on YouTube"?
assume YouTube would have removed it if it was not legal?
contact Hr. Ulrich directly for permission based on the very good assumption that nicolas86uy does not have his permission?
Facetiousness aside, I don't see how this isn't A) the lifeblood of the web and B) exactly like the issue with citing photographs.  Perhaps the answer is simple: don't embed anything that isn't shared fully through creative commons.  What would the web look like then?
Anyway, I've just bought my first Christmas gift, for myself.  It's Lewis Hyde's newest book on this very topic, Common as Air: Revolution, Art, and Ownership.  The NYTimes has a great article reviewing his general ideas on this book in a 2008 piece called What is Art For?