Here is my final project unit planner.
What a hard / a lot of work a teacher confronts!
This was my first adventure for the whole concept of all about education. Since I had created neither a unit planner nor a lesson planner, and never thought about 'what education was', this was more than just the course1 final project for me. To put it another way, I needed to start from thinking 'by the way what is teaching? '. Since I am not a teacher,  I cannot offer any lessons to any students basically. Hence I asked our library teacher(Ms. Kirsten Gallagher) to give lessons  based on the unit planner that I had created to our 4th graders.  Before I started planning, she had advised me that I should consult with all the 4th graders' teachers to find out their students' current academic standards( if students have got enough knowledge or skills to follow the content of my unit planner, from which I would expect students to learn.) According to them, they should be good enough to enjoy the unit. The preparation is the everything!
Our new library in a new building.
Coincidently as I talked to our library teacher what I intend to do for the course1 final project, my big theme as 'libraries for the 21st century' was the part of what she has been thinking of to do for them since kindergarten and junior school students including K/JS faculties will move to a new building at the end of this year. It is a perfect timing for both students and the whole community of our school to think about our libraries for the future.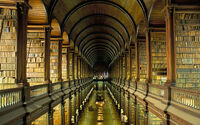 My dominant attention to the unit however I created does not necessarily confine our library in a new building, where we are moving this December, but emphasizes on whatever libraries in the 21st century our students could think of.
The summary of this unit planner
It will take about approximately one and a half hour lesson for a teacher to implement this unit, which is split into three stages. The goal is that students will be asked to design or lay out their thinking libraries in the 21st century by means of giving their imaginative or creative views based on off/online research for their theme/vision working as their own group. Off-line methods refer to our physical resources or collections in our library and on-line research will be based on our OPAC system, which could also offer filtered web-based contents provided by our system, Google search by image and possibly  searchasaurus hosted by EBSCO, with which we have been contracting. They could mainly do image search activities since they have not been taught how to research topics on authentic search-engine tools. Yet they know or understand how to search things by images, which will help them to have 'big ideas'  to lay out their thinking I hope. Those ideas will be filled out in open-ended Google doc survey format by students, and they will be later on shown to other groups of students(, which refer to both the same class and the other class )on the screen, and their views could be shared with each other (group) and reflected on together.
The first stage
On the first stage, students will be introduced by some current/past images of library entities or objects in the world, whose timeline will be back and forth and they will see some connections between the past and the present, which could be extended to the future thinking. The underlying concept I would like to deliver to students is the whole vision, which stays at the heart of an organizational body. This unit based on the bottom-up theory was made to motivate their thinking rather than just give contents to them.
Therefore this introduction is the mixture of the past, the present, the future and the different time scale or other dimensions set in other planets. Visible images of libraries plus their resources ,which libraries normally/abnormally own and short-cut scenes from 'Episode2'(, which, if you like, could extend to studies of anthropology: what defines human life and society? ) will be shown to them by following some 'guess what?' methods.
In the last part of the introduction, we could go through all questions prepared for the survey, on which they will start researching, constructing and laying out their own thinking freely.
The Second and the Third Stage
In the second stage, each group will start answering to the open-ended survey questions on line. Thirdly all views designed by every group of the 4th graders will be shared to the each class of the 4th grade students and reflected on together. If time is allowed, they will draw their imaginative libraries on the copy of the layout design of our new building as they refer back to their own constructive plan based on their answers to the survey.
Since this is the first unit/lesson I have ever created in my life and is going to be delivered to students, I have no ideas how this would be realistically or practically going to happen. We are planning to implement this unit in November, which is just another month before to move to our new building. To what extent is this unit embedded into or integrated with the efficient use of technology?  Will what I am thinking to want them to learn from the unit be applied to their enduring inquiry curiosities? Could this unit planner help them to lay out their bottom-up constructive views? How far away from the approach of 'new things in new ways' and "I'll never go back" as well as "Mapping the Journey" from 'Reinventing Project-Based Learning' (written by Suzie Boss and Jane Krauss) would this unit be?
Finally…although I have not implemented this unit planner in lessons yet.
Finally creating this unit has also highlighted the quantity of my uncertain/unknown areas or knowledge or techniques for serving for libraries in the 21st century. There are certainly so many tasks or assignments to be caught up with ahead of me. Another thing I have noticed so far is that we have not made the best use of our database search tools efficiently enough to be paid off.
Image Sources:
Cambridge University puts Europe's oldest printed books online  
From Project Gutenberg, the first producer of free e-books.