There are those times in life when as a parent you are just so proud of our kids. For me, it was this Thanksgiving weekend. My daughter, who has been the 11th player on the basketball team was not supposed to travel for the
Hong Kong Holiday Tournament
. Unfortunately, a girl on Tess's team got hurt in this Monday's practice. Therefore, within 48 hours, Tess went from planning her holiday in Taipei to packing a bag, organizing passport and ARC, snacks, gift for the host family, getting the traveling gear. <
As parents, we decided not to go since it was so last minute. We weren't sure what to expect, as the coach honestly stated he didn't know how much time she would play as she is a freshmen and not quite ready yet. As the holiday unfolded, so did the tournament. And thankfully, due to modern technology and tech geeks, we were able to watch every game through the Hong Kong International School Website, especially linked to the Tourney.
Though she didn't play much throughout the tournament, we were able to see her score her first varsity points via an uploaded feed from a middle school gym in Hong Kong through a hardwired computer that was hooked up to our 42″ Vizio via the RGB cable via UStream. Now that's pretty cool. She was so excited. Add that this, the ability to communicate using text messages and facebook, times have truly changed. And when as a parent you send your child on an overseas adventure overseas, you can still stay connected and actually watch them participate.
Hopefully this will be the first of many of these kinds of experiences as she makes her way through Taipei American School. And a great deal of gratitude goes out to the Tech Team at HKIS for making all of this possible. Thanks for the memories.
At a recent faculty meeting, our director announced that Taipei American School would be investing and switching over to Pearsons Powerschool. After years of the OLC, Homeworknow, EasyGradePro, and many GoogleSites and Docs, it will be nice to have all of these functions in one place.
Power school has many benefits, and a few of these include:
– Better communication between parents, students, and teachers
– Parents can check grades and homework assignments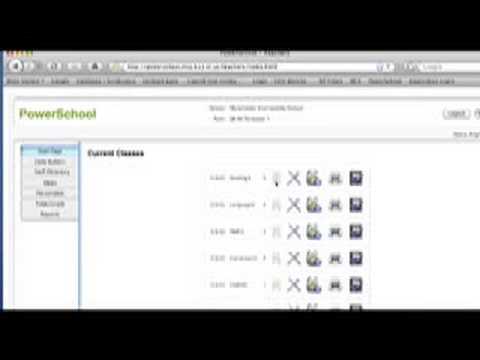 – Will build better relationship between home and school
– Students will be more organized and informed
– Allows faculty to make timely decisions
The bottom line… students will benefit the most! I'm extremely excited to add this program to our school. Though there will be a learning curve, it's truly another example of how technology is making our lives easier, more effective, and more efficient. Can't wait!
With our next next COETAIL class on December 11th, 2010, I'm excited to hear from our instructor, Jeff Utecht, how Powerschool works at ISBangkok and how it will help us here at TAS.